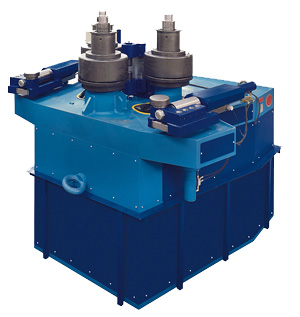 The Heller AR Section Bender is the perfect answer to your bending requirements. The Heller AR line offers 8 models with bending capacities ranging from 1-3/16″ x 3/16″ angle to 10″ x 1″ angle. All models are available with manual or CNC control.
The Heller AR line uses modular tooling that can be configured to roll most standard sections. Special tooling is also available for rolling pipes and tubes and beams and channels the hard way.
The design of the Heller Angle Roll is the result of years of experience and is aimed at providing the highest level of performance, accuracy and consistency throughout the life of the machine with the additional advantage of being virtually maintenance free. All models of the Heller AR Profile Bender are compliant with EEC norm 89/392

Peripheral Speed Compensating System
Three-Dimensional Guide Rolls
Broad Equipment of Standard Rolls
Available Models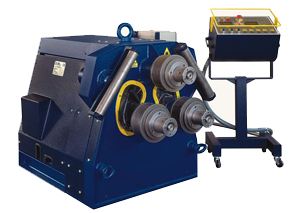 AR 60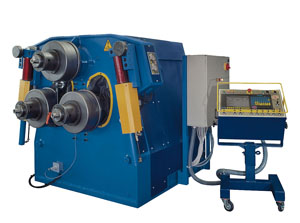 AR 140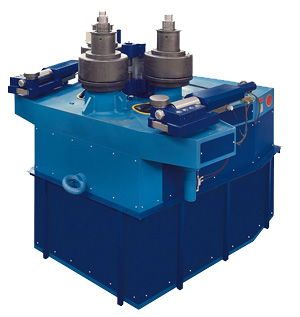 AR 180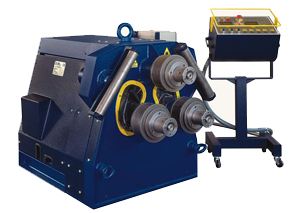 Heller AR Standard Equipment
Standard equipment includes a set of modular rolls that are suitable for rolling most of the commonly used commercial sections such as flats, angles, square and rectangular tubes, Tees, channels, and beams.

The 3D lateral guide rolls are hydraulically powered on AR140 and larger machines and can be adjusted to work very closely to the bending rolls, minimizing the distortion of non-symmetrical profiles. Moreover, the guide rolls are equipped with the tooling to bend angle leg-in. This tooling can also be used for calibrating bending diameters or recovering bends
Technical Characteristics
Three smooth driving rolls, for excellent drive of every type of profile with minimum surface damage.

Bending rolls independently adjustable, for double prebending capability on the leading and trailing end of symmetrical profiles.

Lateral guide rolls with three-dimensional adjustment.

Standard combination horizontal/vertical orientation from model AR60 to model AR250.

One-piece fabricated steel frame.

Bending rolls of alloy with high Ni.Cr.Mo content, heat treated to surface hardness 60 HRC.

Free standing remote control station with low voltage armored connection, foot pedals and push buttons.

Hydraulic Drive
All rotating parts are journaled by high dynamic load roller bearings.

Gear boxes are directly splined to shafts.

Variable feeding speed of profile, infinitely adjustable from 0 to 7 meters per minute

Adjustable hydraulic speed and torque compensation device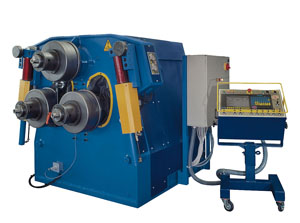 Heller AR Controlled Axis
Machines with controlled axis are required to achieve consistent curves between straight parts, multiple radii or compound curves, tapered or variable pitch helical coils, pancake coils, etc.

The AR line offers two types of controls which allow you to store your programs. The MG 3000 Control electronically interfaces with all three axis. The feeding speed is infinitely variable.

Furthermore, the CNC PRO Control has the capability to interpolate the movements of the forming rolls with any other axis. The Control has data connection capability. It can be linked with other PC via floppy disk, serial port or LAN. The feeding speed is also infinitely variable.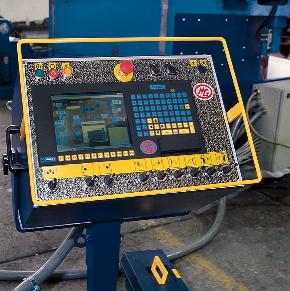 AR Revolution Features
500 MHz Graphic Central Processing Unit on PC, integrated on the machine control panel.
10.5" LCD display.
IP55 protected keyboard.
3.5" floppy disk driver on control panel.
Network connectable.
Internet connectable ( upon request ).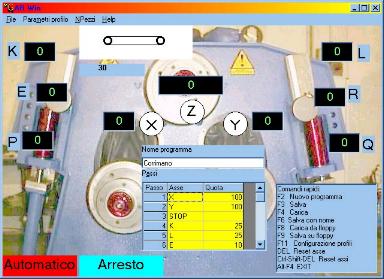 The AR programming process is among the easiest in the industry. Simple and intuitive, it is without comparison. It works following the most standard working platforms. There is an auto-teaching system, which allows you to record all the steps of a program by simply rolling the part manually.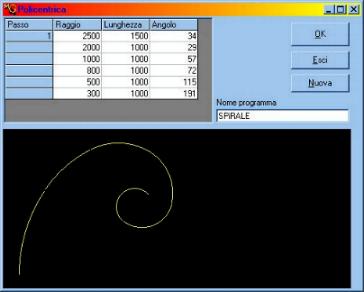 All ranges of the profiles are graphically filed inside the program for quick and easy selection . After the program has been dialed in a graphic program it shows the bending layout to give a precise idea of how the part will look.
AR Revolution Special Tooling Options
Traction and Compression tooling used for IPE - NP - HE - UNP the hard way.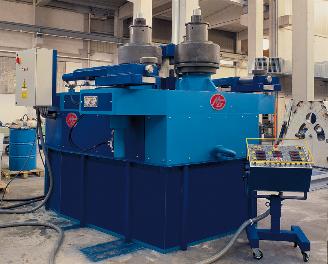 Central support for big diameters or spirals. Frontal and powered support for spirals up to 6 meters long.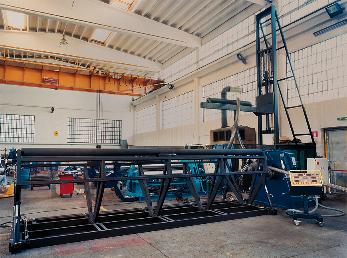 Radius measuring tool.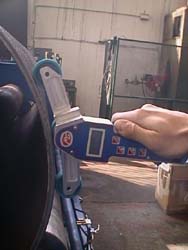 Remote Control.