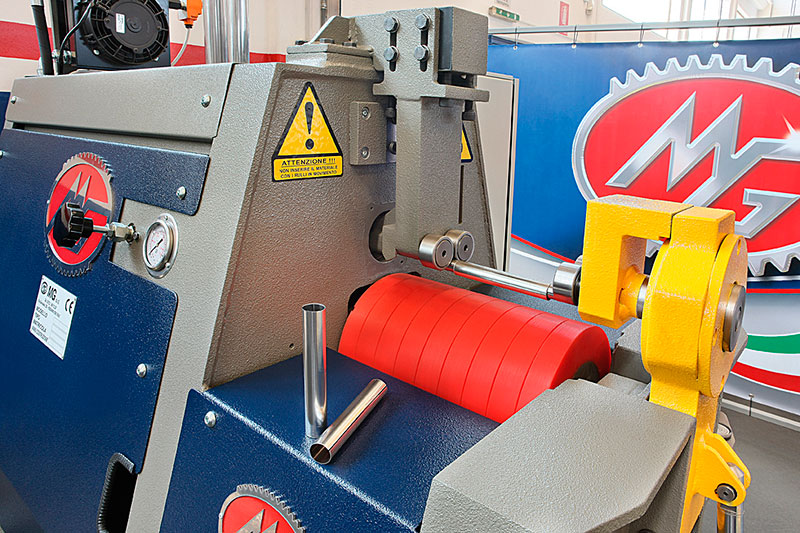 Standard Features
Feed table with two adjustable guides for squaring of blanks.
Cylinders support with two slip on tubes.
Mandrel necessary for each diameter and thickness of material to be rolled.
Slip on tube support for material extraction.
Electrical components conform to UL Standards, Klockner Moeller Electrical Board.
Two hydraulic cylinders for bottom urethane roll movement.
Pressure of urethane roll: two hydraulic jacks.
Swing bearing: hydraulically controlled.
Hydraulic drop end.
This model is manufactured in a simple and rugged construction, suitable for high production as well as for the short runs and the R&D or model shops. Pressure on the bottom urethane roll is obtained by hydraulic pressure. The bending process for this machine consists of the rotation of the top roll (punch) by means of pressure developed by the lower urethane roll (female die). The radius obtained is a direct ratio between the diameter of the top roll and the spring back of the material being rolled. In order to obtain different radii other than the minimum one, it is necessary to slip over the top roll a tubular mandrel (slip-on tube), thereby changing the radius and naturally the diameter of the part being rolled.
Optional accessories can be provided for the loading of material into the machine via a magnetic or pneumatic feeding system. A parts ejector is also available for the off loading of the part either into a collection container or onto a conveyor system for transport of material into welding line.