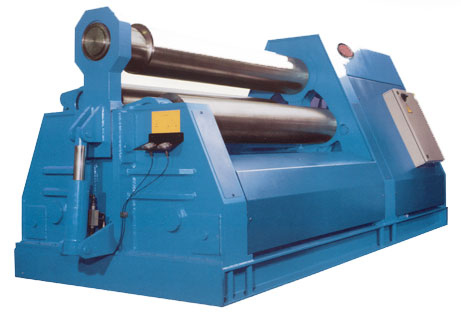 Fully hydraulic heavy-duty plate bending machine.

Elimination of daily, weekly or monthly maintenance.

Lifetime parallelism.

No proprietary replacement parts.

Off-shelf parts available in most cities.
Whether you are a job shop or manufacturer, the Heller Three Roll Double Pinch is the best solution. The Heller Three Roll Double Pinch plate roll is the most advanced three-roll double pinch roll on the market today!

By using exclusive planetary guides: available on Heller Rolls, we are able to keep more area of the plate under bend pressure during the rolling operation, thereby allowing the Heller Rolls to roll down to 1.3 times the upper roll diameter. This allows Heller Rolls to have a 16% advantage on tight diameters over our competition.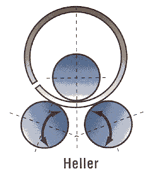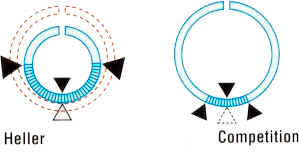 Spherical Roller Bearings:
Extremely energy efficient. Eliminates bushings and the necessary running tolerance they require. A negligible loss of energy due to friction whereas bronze bushings take 25-30% of available energy to overcome inherent friction. Lubricated for life.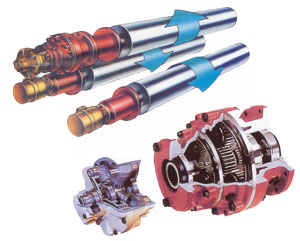 Planetary Drive:
All three rolls are independently driven by planetary gear drives. This eliminates complicated transmission systems which are not energy efficient. Delivers in excess of 98% of all created energy to the roll surface. Also eliminates the need for clutches and complicated synchronization devices.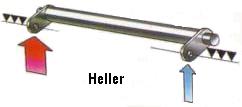 Torsion Bar Parallelism: Unlike electronic systems or proportional value systems, which maintain a theoretical balance, the Heller Roll maintains a mechanical finite parallelism through our exclusive torsion bar system which allows the machine to be adjusted to its full conical tilt andback to parallel in only 5 seconds for the life of the machine.
| | | | | | | | | |
| --- | --- | --- | --- | --- | --- | --- | --- | --- |
| Model | Length | Rolling | Pre-Bend | Top Roll | Side Roll | Total Length | Width | Height |
| AK 124P | 49" | .157" | .080" | 4.7" | 4.33" | 94" | 30" | 38" |
| AK 126P | 49" | 1/4" | 10 ga | 5.51" | 4.72" | 94" | 30" | 38" |
| AK 154P | 61" | .157" | .080" | 5.12" | 4.92" | 106" | 30" | 38" |
| AK 176P | 69" | 1/4" | 10 ga | 5.51" | 5.12" | 114" | 30" | 38" |
| AK 204 | 80" | .157" | .080" | 5.51" | 5.12" | 126" | 30" | 38" |
| AK 206P | 80" | 1/4" | 10 ga | 6.30" | 5.51" | 126" | 30" | 38" |
| AK 208P | 80" | 5/16" | 1/4" | 7.48" | 7.09" | 131" | 30" | 38" |
| AK 210P | 80" | 3/8" | 5/16" | 8.27" | 7.48" | 132" | 48" | 55" |
| AK 213B | 80" | 1/2" | 3/8" | 9.06" | 7.87" | 139" | 48" | 51" |
| AK 218C | 80" | 5/8" | 1/2" | 10.24" | 9.45" | 139" | 51" | 54" |
| AK 220C | 80" | 3/4" | 5/8" | 10.63" | 10.24" | 139" | 51" | 54" |
| AK 225D | 80" | 1" | 3/4" | 12.60" | 11.81" | 156" | 65" | 64" |
| AK 240E | 80" | 1 9/16" | 1 3/16" | 14.96" | 14.57" | 165" | 80" | 84" |
| AK 256P | 102" | 1/4" | 10 ga | 7.48" | 6.69" | 148" | 30" | 38" |
| AK 258B | 102" | 5/16" | 1/4" | 8.07" | 7.28" | 152" | 36" | 46" |
| AK 2510B | 102" | 3/8" | 5/16" | 8.27" | 7.48" | 152" | 48" | 50" |
| AK 2513B | 102" | 1/2" | 3/8" | 9.45" | 8.66" | 161" | 49" | 55" |
| AK 2516C | 102" | 5/8" | 1/2" | 10.24" | 9.45" | 161" | 51" | 55" |
| AK 2520D | 102" | 3/4" | 5/8" | 12.60" | 11.81" | 177" | 65" | 65" |
| AK 2525D | 102" | 1" | 3/4" | 12.99" | 12.20" | 177" | 65" | 66" |
| AK 2535E | 102" | 1 3/8" | 1 13/16" | 13.78" | 12.99" | 186" | 80" | 84" |
| AK 306P | 122" | 1/4" | 10 ga | 7.87" | 7.48" | 172" | 37" | 46" |
| AK 308B | 122" | 5/16" | 1/4" | 8.66" | 8.27" | 172" | 37" | 46" |
| AK 310B | 122" | 3/8" | 5/16" | 9.45" | 9.06" | 172" | 48" | 54" |
| AK 313C | 122" | 1/2" | 3/8" | 11.02" | 10.24" | 181" | 48" | 55" |
| AK 316C | 122" | 5/8" | 1/2" | 11.81" | 10.63" | 181" | 48" | 55" |
| AK 320D | 122" | 3/4" | 5/8" | 13.39" | 12.60" | 197" | 65" | 66" |
| AK 325D | 122" | 1" | 3/4" | 14.96" | 13.78" | 206" | 80" | 84" |
| AK 332E | 122" | 1 1/4" | 1" | 15.75" | 14.96" | 206" | 90" | 84" |
| AK 340F | 122" | 1 9/16" | 1 3/16" | 17.72" | 16.14" | 226" | 82" | 98" |
| AK 350G | 122" | 2" | 1 9/16" | 20.87" | 19.69" | 248" | 98" | 110" |
| AK 360H | 122" | 2 3/8" | 1 3/4" | 23.62" | 21.26" | 252" | 118" | 130" |
| AK 406B | 161" | 1/4" | 10 ga | 9.45" | 9.06" | 212" | 37" | 46" |
| AK 408B | 161" | 5/16" | 1/4" | 10.63" | 9.45" | 212" | 37" | 46" |
| AK 410B | 161" | 3/8" | 5/16" | 12.60" | 11.81" | 220" | 49" | 55" |
| AK 412 | 161" | 1/2" | 3/8" | 13.39" | 12.20 | 220" | 49" | 55" |
| AK 416C | 161" | 5/8" | 9/16" | 14.96" | 13.78" | 236" | 66" | 66" |
| AK 420D | 161" | 3/4" | 5/8" | 16.14" | 14.96" | 245" | 80" | 84" |
| AK 425E | 161" | 1" | 3/4" | 18.11" | 16.54" | 245" | 80" | 84" |
| AK 432F | 161" | 1 1/4" | 1" | 20.08" | 18.11" | 258" | 81" | 89" |
| AK 440G | 161" | 1 9/16" | 1 1/4" | 22.83" | 21.26 | 265" | 82" | 98" |
| AK 450H | 161" | 2" | 1 9/16" | 25.60" | 23.62" | 287" | 98" | 110" |
| AK 460I | 161" | 2 3/8" | 1 3/4" | 27.56" | 25.59" | 292" | 118" | 132" |